Apply for services
Overwhelmed with home repairs? You've come to the right place.

APPLICATION INFORMATION
FOR REBUILDING TOGETHER NORTH CENTRAL FLORIDA'S
LEVY COUNTY SAFE AT HOME PROGRAM
LEVY COUNTY SAFE AT HOME PROGRAM APPLICATION OPEN
The Safe at Home program provides no-cost preventive home modifications to people with mobility issues and other disabilities to improve accessibility, reduce falls, increase independence and facilitate aging-in place. Safe at Home is designed to improve aging-in-place outcomes for low-income older adults through the modification of their home environment to meet their specific needs.
Safe at Home services:
Critical home repairs that correct hazards and impact the safety of those living in or visiting the home.
Falls prevention strategies that minimize the risk of falls in and around the home.
Accessibility modifications that address changing mobility needs and enable independence around the home.
Fire prevention strategies that reduce the risk of death or injury because of fire or smoke.
Safe at Home common repairs and modifications include but are not limited to:
Installing grab bars, handrails, vertical rails
Entry and threshold ramps, low– rise steps
Widening doorways and passageways
Modified tubs and showers
Raised toilets
Removing tripping hazards
Smoke and CO2 detector installation
Improved interior and exterior lighting
The application will open April 1, 2022 and remain open until capacity is reached. Please understand that our resources are limited, and that returning the application or even receiving a visit to your home by someone from RTNCF does not mean you will be accepted into the program.
To qualify, applicants must:
Be a resident of Levy County

Have at least one resident in household age 62+

Own and live in home with property taxes current

Applicant name listed on deed to the property

Provide proper documentation including:

ID for each person living in the home
Verification of each income source

Be within the 80% household income limits determined by HUD (see chart below)
Income Limits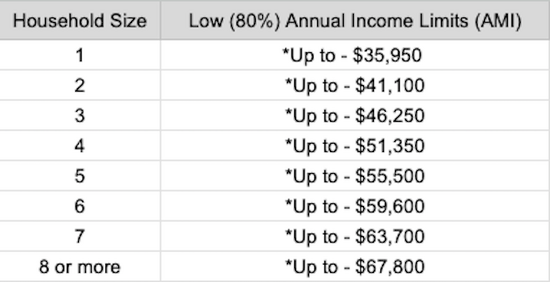 THERE IS NO APPLICATION FEE REQUIRED TO APPLY OR RECIEVE ASSISTANCE FROM REBUILDING TOGETHER.
Rebuilding Together North Central Florida (RTNCF) does not discriminate on the basis of race, color, religion (creed), gender, gender expression, age, national origin (ancestry), disability, marital status, sexual orientation, or military status, in any of its activities or operations.
If you have any questions or would like to request a paper application, please contact us at apply@rebuildingtogetherncf.org or (352) 373-2573.